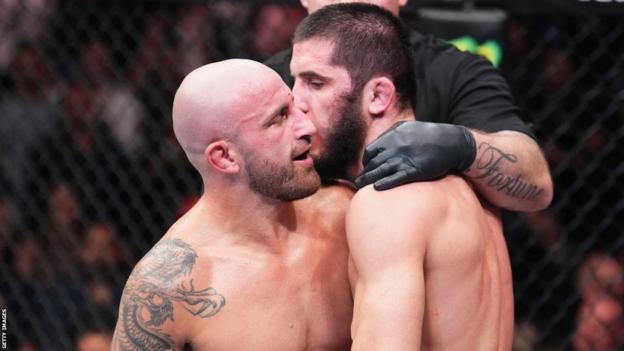 Islam Makhachev defeated local favorite and featherweight champion Alexander Volkanovski by unanimous decision to retain his lightweight title in an engaging contest at UFC 284 in Perth, Australia.
In a tight fight, the Russian Makhachev's counter-attack and offensive struggle gave him the advantage over a valiant Volkanovski.
If he wins, Makhachev, 31, could replace Volkanovski, 34, who was trying to become a two-time champion, as the UFC's pound-for-pound number one.
The fight was billed by the UFC as the first-ever meeting between their current pound-for-pound number one in Volkanovski and the number two-ranked fighter in Makhachev.
Volkanovski, who has dominated the featherweight division since winning the title in 2019, was moving up to lightweight in hopes of following Conor McGregor, Amanda Nunes, Daniel Cormier and Henry Cejudo to become the fifth concurrent UFC double champion.
Makhachev, meanwhile, was making his first title defense since defeating Charles Oliveira at UFC 280 in October.
The Russian was a huge favorite with bookmakers heading into the fight due to his larger size, with pundits pointing out his top-flight wrestling as the difference, but the fight was much closer than some had predicted.
There was a celebratory atmosphere as Volkanovski strode into the octagon, cheered voraciously by the Australians inside the RAC Arena, while in contrast Makhachev sported a stern, focused look as he was booed when it comes out.
Makhachev was also fighting without his trainer, mentor and former UFC lightweight champion Khabib Nurmagomedov in his corner, after the latter offered in January he was walking away from the sport.
The fight began with both athletes showing patience as Volkanovski feigned and changed positions, while Makhachev looked for openings.
Slightly more than halfway through the round, Makhachev had his first significant moment as a punch knocked Volkanovski down, illustrating the difference in power, before landing a takedown and ending the round in a dominant position.
The key second-round moment belonged to Volkanovski, as after another takedown from Makhachev, he managed to achieve what many previous opponents struggled to do and got back on his feet.
Volkanovski's resilience fired up the Perth crowd as they roared with every combination of punches and leg kicks he landed over the next few rounds.
Makhachev continued to use his reach to his advantage, countering Volkanovski with quick left hands and takedown attempts.
After a dominant fourth round on the floor for Makhachev, Volkanovski advanced into the fifth, perhaps knowing he needed to win the round convincingly to secure the win.
After showing strong takedown defense, Volkanovski dropped Makhachev near the end and finished the fight in a commanding position, hammering him to the canvas.
When the bell rang, both fighters stood and raised their arms, confident of victory, with everyone standing next to the octagon applauding both fighters' displays.
The result meant Makhachev ended Volkanovski's 12-fight UFC winning streak and extended his to 12, which is now the longest in the promotion.
"I thought he was going to be easy on the pitch, but this guy proved he wasn't," Makhachev said.
"I showed why I'm number one. If you like it, I'm the best fighter in the world right now, thank you."
Volkanovski meanwhile, paid tribute to his opponent.
"I appreciate the support, but let's applaud Islam. Obviously a lot of people are going to be happy because they didn't give me a chance, but it was a fun fight," he said.
"Obviously I would like to say this message with a win, but there is nothing wrong with challenging yourself. Challenge yourself like this, it only makes you stronger.
"You can see I can do the job, but I failed tonight, congratulations to Islam, great fighter."
Rodriguez takes interim featherweight gold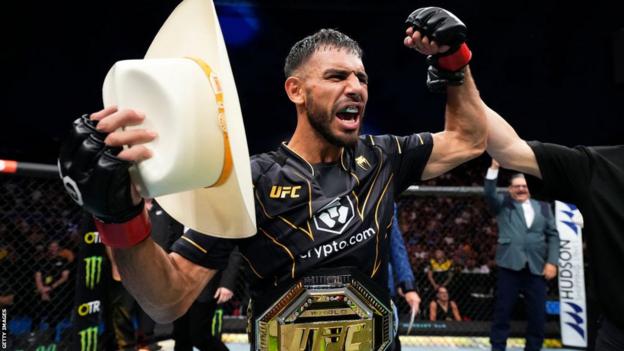 In the co-main event, Mexico's Yair Rodriguez put on a great performance as he defeated American Josh Emmett for the interim featherweight title via a second-round triangle choke.
Rodriguez, 30, mixed up his striking beautifully, landing a series of damaging kicks, punch combinations and elbows.
Emmett's power shone when he hit the elusive Rodriguez, but he was second-best throughout.
When the fight went to the ground, Rodriguez showed another layer of his dangerous skills by locking himself in a triangle choke to end the fight.
Rodriguez's win will likely set up an undisputed title fight with Volkanovski, who has said he wants to stay active in the lightweight and featherweight divisions.