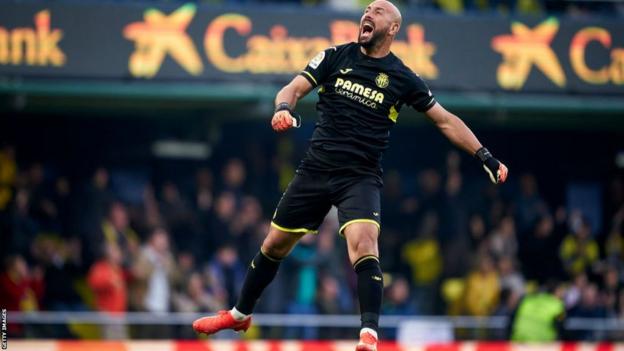 Pepe Reina has represented some of Europe's most iconic clubs over the past two decades, but there has always been one that the former Spain goalkeeper yearned to return 'home' one day.
Reina's second stint at Villarreal began 20 years after donning the gloves for El Submarino Amarillo – the Yellow Submarine – but while the 40-year-old jokes his hair may have changed slightly since then, his passion did not change.
"It's like a dream come true because since I left I think about it several times every year," says Reina, who, after joining in the summer with the intention of retiring at the club, has become the first choice since Geronimo Rulli was signed by Ajax in January.
"What I'm doing is reclaiming the feelings that I haven't had from a personal point of view for the past few years and that's very important – to be able to retire, to be absolutely happy with that sense of belonging to the team."
Reina first joined Barcelona in 2002 and helped Villarreal qualify for the Champions League for the first time in 2005 before leaving for Liverpool, where he remained until 2014.
He won silverware with the Reds as well as Napoli and Bayern Munich and was also part of Spain's World Cup and European Championship winning sides, before representing AC Milan, Aston Villa and Lazio.
A lot has changed for Villarreal around this time as well.
They reached the Champions League semi-finals after Reina left with a squad of Marcos Senna, Juan Roman Riquelme, Diego Forlan and Juan Pablo Sorin, bounced back from relegation in 2012 and beat Manchester United to win the Europa League in 2021.
"It was a small club at the time and I had, let's say, more ambitious and competitive goals in mind," says Reina. "But over the years, we've both grown."
Reina's return coincides with the club's centenary season and on Friday Villarreal will celebrate their 100th anniversary.
The first 75 years of their existence have been spent far from the top flight, but they have finished outside the top seven only once since being re-promoted in 2012-13, and the club are closing in on 200 games in European competition.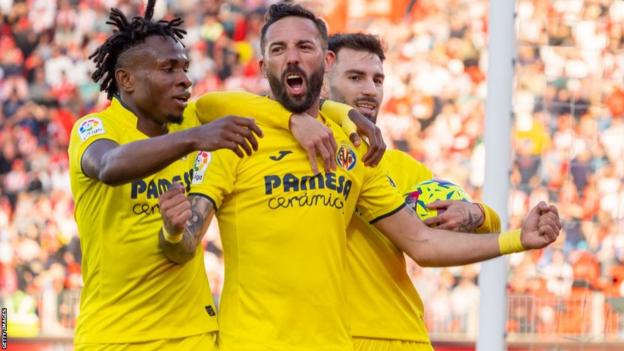 Many improvements have also been made off the pitch, including the refurbishment of the club's iconic home, El Madrigal, which has been renamed Estadio de la Ceramica, in recognition of Castellon's local ceramics industry.
"It's a club that doesn't have the same budget as Real Madrid, Barcelona or Atletico Madrid, for example," Reina explains.
"But it's a club where the players' sense of belonging is very important, where the work we've done with the academy for many years has generated a lot of assets and it's a club that is still growing and grows very quickly.
"The team have become extremely dynamic and not only are fighting to stay in the top division, but they have even bigger and more important goals. The academy players who are now joining the club, they are brilliant players, sure and stronger, much more competitive than the players of the past."
Reina aspires to stay at Villarreal beyond this swansong and has ambitions to become a coach.
"It's the option I dreamed of," he explains. "It was my ultimate goal, something I've been thinking about for many years and I hope I can help the club continue to grow.
"The main thing is to achieve stability to be able to fight for important things and still occupy European positions… and to have sufficient economic solvency, which is not an easy task these days.
"But above all, to have a Villarreal that is full of academy players so that we can continue to develop this important asset for the club and in 15 years we can stand where we are now, compete with the best and produce continuously the academy players. That's the ultimate goal with me as a coach, or anyone else."
Featured in this future Yellow Submarine squad, the father-of-five would love to see more Reinas – his own father Miguel played in goal for Barcelona and Atletico Madrid but retired before Pepe was born.
Reina's sons, Thiago and Luca, played for Villarreal's youth teams while also acting as ball boys for their father.
"Children are the most wonderful thing that life gives you and having them behind your lens was something very special for me," adds Reina.
"They played for Villarreal – one was a goalkeeper and the other a left winger – but, in any case, they have to love football and grow with these (positive) values ​​that we produce in the dressing room with our colleagues. .
"They must be very proud of the Villarreal shirt. For me, it would be a dream come true if the two join Villarreal in the future."